[Quote:]
If you voted for Bush, didn't vote, or voted no on gay marriage, I hope you get drafted.
I hope they stick you in my unit, and you go with me to Iraq when my unit goes back in September. I will laugh when you see what soldiers in that country face on a daily basis. I hope you work with gay soldiers too. I did. One of them saved my life. Think he shouldn't have the right to get married? Fuck you. He fought just as hard as I did and on most days, did his job better than me. Don't tell me gays don't have the same rights you do.
Think the war in Iraq is a good thing? I'll donate my M-16 to you and you can go in my place.
[Quote:]
I Lost My Frog starts with a found-object, a hand-drawn flier written by a small child who is trying to recover his frog, named "Hopkin Green Frog," with Art-Linkletter-perfect infantalisms like "PS: I'll find my frog/Who took my frog/Who found my frog."

Interweb hipsters used this as a jumping-off point and photoshopped a series of images depicting the search for the lost Hopkin Green Frog, and the results are incredibly funny and even a little touching.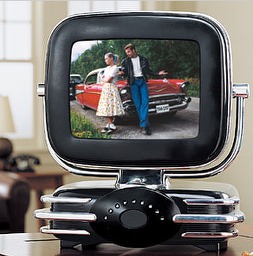 [Quote:]
RCA has released its "Astro" TV, which is styled to look like a classic 1950s set, save that it is built around a flat-panel LCD. Expect to see a lot more of this as LCDs get cheaper and more available: remember when FM-radio-on-a-chip costs fell to approximately zero and the market was flooded with FM radios built into pens, sunglasses, and novelty baseballs and pencil-sharpeners? Modestly-sized LCDs are certain to follow suit in the next year or two.
[Quote:]
It used to be that trademarks were intended to protect "consumers" (that's us) from being tricked into buying goods under false pretenses. If it said "Coca-Cola" on the can, there had better be Coke inside, and not Pepsi or Crazy-Bob's-Discount-House-of-Soda brand. When a competitor of Coke's shipped a bottle of stuff that was misleadingly packaged or labelled, Coke's authority to sue its competition derived from its need to protect us, not its bottom line. It didn't get to sue because it owned Coca-Cola, but because it was acting as a proxy for its customers, who were being decieved by con-artists who mislabelled their goods.

That meant that Coke's trademarks couldn't be used to go after anyone except competitors and then only when they were deceiving the public. If I started the Coca-Cola Brake and Lube Shop and there was no likelihood that a customer of mine would spend his money at my premises because they thought the fine quality of Coca-Cola Beverages would be reflected in my workmanship, then I was OK.

It also meant that if I made a product like Coca-Cola (say, Pepsi Cola), I could use the word "cola" to signify that if you like Coke, you should try Pepsi. Trademark didn't protect Coke from Pepsi's proudly announcing that they had goods that were similar to Coke's. A court actually found that "cola" was a generic term ad that Coca-Cola couldn't stop other "cola" makers from using it.

But as time went by, trademarks stopped being about us and started being the embodiment of brands (which, as Surowiecki points out, are on the wane and were probably never as important as we thought to begin with).

This meant that trademarks weren't just things that helped the public know what they were buying — they are a kind of pseudo-property. Pseudo-property that could be defended on the basis that it "belongs" to a company, who need to be protected from having the value of their marks "diluted" or "tarnished."
[Quote:]
Undoubtedly, there are strong brands that can still command a premium. In one recent survey by Landor Associates, 99.5 percent of people said they'd be willing to pay more for a Sony. But the size of that premium is smaller than ever. Five years ago, Sony charged 44 percent more for its DVD players than the average manufacturer. Today, Sony DVD players cost just 16 percent more than the average. And yet, even though the price of Sony's most expensive DVD player fell 60 percent between 1999 and 2003, CyberHome, maker of absurdly cheap DVD players, has knocked off Sony to become the biggest DVD-machine seller in America. Similarly, in the fashion industry, a stronghold of brand identity and obsession, prices fell an average of 9 percent between 2001 and 2003. At least part of the reason is the uptick in private-label sales, which now account for almost half the market. The rise of retailers like Zara and H&M, which make their own cheap but nice designer knockoffs, and the emergence of a high-low aesthetic (in which top designers no longer dictate taste) have weakened the power of fashion brands and fragmented the industry into myriad small ones. Sure, superbrands like Louis Vuitton and Prada can still command a heft price premium. But they're increasingly the exception.

Marketing types either don't see this trend or choose not to talk about it. In the words of advertising legend Jim Mullen, "Of all the things that your company owns, brands are far and away the most important and the toughest. Founders die. Factories burn down. Machinery wears out. Inventories get depleted. Technology becomes obsolete. Brand loyalty is the only sound foundation on which business leaders can build enduring, profitable growth." Similarly, in the new book Brands and Branding, Rita Clifton, chair of Interbrand UK, puts it this way: "Well-managed brands have extraordinary economic value and are the most effective and efficient creators of sustainable wealth." These assertions claim that while factories, source code, and patents are ephemeral, brands are real. But in fact, their long-term value is shrinking. They're becoming nothing more than shadows. You wouldn't expect your shadow to protect you or show you the way. It only goes wherever you do.

Look at Nokia. In 2002, it had the sixth-most-valuable brand in the world, valued by the consultancy Interbrand at $30 billion. But the very next year, Nokia made a simple mistake: It didn't produce the clamshell-design cell phones that customers wanted. Did consumers stick around because of their deep emotional investment in Nokia? Not a chance. They jumped ship, and the company's sales tumbled. As a result, Nokia lost $6 billion in equity. How about Krispy Kreme? In 2003, Fortune called the doughnut maker America's "hottest brand." Then came what might prove to be the hottest name of 2004: Atkins.

Annual rankings of brand value are littered with examples of firms that watched billions of dollars in supposed "brand equity" vanish – not because they messed with their identities, but simply because they didn't make a product or deliver a service that people needed. Even genuinely powerful brand association is no longer a guarantee that a company will make money. TiVo has revolutionized television, and even introduced a word into the consumer vernacular. But it hasn't made a dime in profit. In the past year, the company has cut prices sharply to try to compete with the cheap DVRs coming to market from cable and satellite companies. Similarly, Apple has had to continually introduce better variations on the iPod – and cut prices – to fend off copycats.

[..]

The truth is, we've always overestimated the power of branding while underestimating consumers' ability to recognize quality. When brands first became important in the US a century ago, it was because particular products – Pillsbury flour or Morton salt – offered far more reliability and quality than no-name goods. Similarly, many (and arguably most) of the important brands in American history – Gillette or Disney – became successful not because of clever marketing, but because they offered something you couldn't get anywhere else. (Gillette made the best razors; Disney made the best animated movies.) Even Nike first became popular because it made superior running shoes. Marketers looked at these companies and said they were succeeding because their brands were strong. In reality, the brands were strong because the companies were succeeding.
[Quote:]
As I read through the post-mortems of the 2004 election speculating about whether the gay marriage issue cost John Kerry his presidency — with many Democrats supporting this view — I have the disoriented feeling of reading about my sweet, ordinary life with Keith distorted through funhouse mirrors. When writer Bill Bennett places gay marriage in opposition to "ethical values" and a "decent society," as he did in the National Review the day after the election, does he mean us? Apparently so. By now, the concept of marriages like ours has been twisted into such an abstract threat to so many otherwise fine and compassionate people — and so divorced from the humble blessing of two souls caring deeply for one another — it's time for a national reality check.

Keith and I are not political activists. His family has traditionally voted Republican, and his parents voted for Bush in the recent election. Until recently, Keith's father was the mayor of a small town in the Midwest; the first time I met him, he took me aside and said, "I know that you are very special to Keith, so that means you are very special to us." There was such simple, human, Midwestern forthrightness in that statement. No banner-waving, no Biblical injunctions, no soapboxing. Just a clear and compassionate message: We love our son and trust his ability to make the most personal decision of all.

Keith and I didn't get married to commit a pioneering act of civil disobedience, to "redefine marriage" as President Bush claimed during his campaign, or to outrage the religious right. We took our vows because getting hitched seemed like the sane next step of our commitment. We figured the best way to defend the sanctity of marriage was to have one and live up to the promises we made to one another.
[Quote:]
De VPRO doet een gooi naar de D-status (van dhimmi-omroep).
Dhimmi is de positie van ongelovigen en anders-gelovigen in een islamitische samenleving. Dhimmi is het best te omschrijven als "gedulde aanwezigheid"; men wordt getolereerd, maar heeft niet dezelfde rechten als moslims en moet zich onderworpen blijven voelen aan de islamitische regels.

In de Middeleeuwen was "dhimmi" een teken van beschaving, toen in Europa ketters levend werden verbrand.

Het is vandaag de dag de geestelijke toestand, waarbij met name de cultuurrelativisten zich onderwerpen aan de gevoeligheden van islamitische minderheden – hoe ondemocratisch die gevoelens ook zijn.

De VPRO buigt voor de intimidatie van het islamisme nog vóór de strijd van de Nederlandse staat tegen de terreur goed en wel begonnen is. De eerste tekenen van onderwerping, met overigens zeer beschaafde bedoelingen.

Wat is er namelijk aan de hand? Na rijp beraad heeft deze publieke omroep besloten de film Submission I niet nog eens uit zenden. Aangezien de VPRO wordt gezien als cultureel vooruitstrevend, is het besluit van enige regionale zenders welhaast een teken van barbarij; zij willen de film namelijk wèl uitzenden.

De gevestigde media maken een enorme heibel over de uitzending, hun eigen lafheid overstemmend. Hopelijk houden de regionale omroepen stand onder de druk en zenden zij de korte film gewoon uit tijdens de crematiedienst van Theo van Gogh.

Hij zou het een passende hommage hebben gevonden.

Wat wel vreemd is dat óók de regionalen eerst toestemming willen vragen aan Ayaan Hirsi Ali; een feodale reflex die de verantwoordelijkheid voor de eventuele gevolgen van de uitzending toch weer (mede) neerlegt bij de zwaarst bewaakte politica van het Westen.
Leon de Winter schreef een kritisch artikel in de Wallstreet Journal. Aangezien voor de site van WJS een abonnement nodig is, een integrale versie:
[Quote:]
It was only two years ago that an animal-rights extremist assassinated the populist Dutch politician Pim Fortuyn, explaining later in court that he did so, in part, to stop Fortuyn from using Muslim immigrants as "scapegoats." Now the Netherlands is once again in shock. On Tuesday, the filmmaker and newspaper columnist Theo van Gogh — a distant descendant of the artist Vincent — was murdered, allegedly by a Muslim immigrant (now in police custody). On Wednesday the police arrested eight Islamic radicals in connection with the slaying. The Netherlands prides itself on being a liberal and tolerant country. What is going on?
[Quote:]
Een 31-jarige Marokkaan uit Amsterdam dient een klacht in tegen het VVD-Tweede-Kamerlid Ayaan Hirsi Ali wegens medeplichtigheid aan de moord op Theo van Gogh. Hirsi Ali zou Van Gogh door haar provocerende uitspraken over moslims en haar korte film Submission 'hebben meegesleurd in het gevaar om vermoord te worden'.
Potdorie! Natuurlijk! Ik ga een aanklacht indienen tegen de gemeente – immers, het plaatsen van al die parkeermeters lokt alleen maar het overtreden van de parkeerwet uit!
[Quote:]
Steve Rocco didn't file a candidate statement or mount a campaign for the school board. He's unknown to teachers and the district and only barely known to his neighbors. Nonetheless, the man being called a "mystery candidate" easily beat an opponent who is active, and relatively well known, in the Orange Unified School District. Now all that's left is to find him.

"Absolutely nobody, but nobody has seen this guy," said Paul Pruss, a middle school teacher and the president of the union. "The whole thing is just bizarre."

Rocco provided little information about himself in his candidate filings. He ignored mail from district officials and the teachers' union during the campaign. When the PTA sent him an invitation to a candidate forum, the letter came back unopened.

"This is just one of the rough edges in our electoral system, where the voters can elect someone they know nothing about," he said.
A pangolin destined for China is seiezed by Malay wildlife authorities. Police in Vietnam have seized 120 protected pangolins, also known as scaly anteaters, which were to be transported to China to be sold for their rumoured aphrodisiac meat(AFP/File/Jimin Lai)
[Quote:]
The number of U.S. citizens visiting Canada's main immigration Web site has shot up six-fold as Americans flirt with the idea of abandoning their homeland after President Bush's election win this week.

"When we looked at the first day after the election, Nov. 3, our Web site hit a new high, almost double the previous record high," immigration ministry spokeswoman Maria Iadinardi said on Friday.
[Quote:]
Enquiries from Americans wanting to move to New Zealand have skyrocketed since George W. Bush was reelected president of the United States.

The Immigration Service website had 10,300 hits from the United States the day after the election, compared to the daily norm of 2,500.

Thousands of North Americans have migrated to New Zealand in recent years — attracted by the country's small population, clean, green image of bush-clad mountains, and isolation from world trouble spots — but the number now looks set to soar.
[Quote:]
Als er nu verkiezingen zouden worden gehouden, haalde de eenmanspartij van voormalig VVD-Kamerlid Geert Wilders zeven zetels. Dat blijkt uit de politieke barometer van enquêtebureau Interview/NSS, vrijdagavond uitgezonden in televisieprogramma Nova. Wilders maakte donderdag bekend een nieuwe rechtse partij te beginnen met Bart-Jan Spruyt, voorman van de conservatieve Edmund Burke Stichting.
Hijzelf dus en zes bodyguards..
[Quote:]
Een overweldigende meerderheid van de bevolking van het Antilliaanse eiland Saba heeft vrijdag in een referendum gestemd voor een directe band met Nederland. De uitslag van de volksraadpleging toont de onvrede van de tweeduizend zielen tellende bevolking met de regering op Curaçao.

Van de kiesgerechtigde bevolking koos 86 procent ervoor direct onder Nederlands gezag te vallen. Daarmee volgde de eilandbewoners het advies van de commissie-Jesurun, die begin oktober aanraadde Saba, Bonaire en Sint Eustatius tot koninkrijkseilanden te maken. Nagenoeg alle andere stemmers kozen voor een handhaving van de status van het eiland als onderdeel van de Antillen. Minder dan een procent van de bevolking stemde voor onafhankelijkheid.

De commissie-Jesurun constateerde dat het draagvlak voor het in stand houden van de Nederlandse Antillen nagenoeg verdwenen is. Ze adviseerde de regering Sint Maarten en Curaçao autonomie te verlenen. De werkgroep raadde de regering aan nog dit jaar een politiek akkoord te sluiten over de hoofdlijnen van haar advies en de voorstellen uit te werken voor een volgend jaar te houden rondetafelconferentie. Hier moeten dan definitieve besluiten worden genomen over de voorstellen. De uitslag van het referendum op Saba zal gebruikt worden in de gesprekken.
When one door of happiness closes, another opens; but often we look so long at the closed door that we do not see the one which has been opened for us.
~ Helen Keller
We, the undersigned residents of the United Kingdom, petition the Prime Minister and the government to immediately cease all further development of, and legislation for, national identity cards and the National Identity Register.

We believe the proposals constitute an attack on individual rights and freedoms. We believe they will lead to institutional discrimination and to unfair and unlawful denial of benefits and services. We believe the proposals will lead to an increase in state control and surveillance over the individual, and that they will create an unacceptable imposition on every citizen. We believe the proposals are unlawful under the principles of the European Convention on Human Rights that guarantee every person the fundamental right to privacy.

We believe the identity proposals will lead to an endemic loss of privacy and freedoms. We believe they will present dangers to marginalised, disenfranchised and disadvantaged people. We also believe that an identity scheme will imperil the relations between citizen and state.

Furthermore, we believe that even if these principled concerns had been fully addressed, that the government's proposals would still constitute an enormous waste of financial resources and would achieve little or no tangible benefits.

For these reasons we urge the government to fully abandon the proposals.
Vote Now!!!