[Quote:]
"It's the most insidious mind-fuck ever."
[Quote:]
Jon Stewart busted Bill using a year old "Daily Show," comedy skit to prove his point that secularists hate Christmas this year. Samantha Bee came out as pregnant as can "be," to prove the point that Bill is a sad, sad man.

Video-WMP
Bill O'Reilly is one desperate fellow isn't he? Wasn't there a study last year that revealed "Daily Show" watchers were smarter than the average viewer? Hat tip to Brad for getting to the bottom of it.

The Talent Show: Christmas Slime Is Here Again: "What's funnier than O'Reilly's unfortunate attempts at humor, however, is that O'Reilly is targeting Jon Stewart. I hate to be the bearer of bad news, Bill, but Jon Stewart is a Jew and Jews don't celebrate Christmas. When you've sunk to the point that you're attacking non-Christians for not celebrating Christian holidays, your witchhunt has completely jumped the shark… read on
[Quote:]
Israel told the United States it fears the outcome of regime change in Syria.

At a strategic-dialogue meeting this week among senior officials, Israel laid out for the United States three scenarios if Bashar Assad is toppled: chaos, an Islamist regime or another strongman from Assad's minority Alawite sect. Israel fears all those options, saying Assad provides a measure of stability.

U.S. officials told their Israeli counterparts that toppling Assad could be "transformative"? and dismissed concerns about an Islamist regime taking his place.
Yeah, why the fuck does Israel think they know better what their neighbours will do than the US neocons? After all, the predictions that US forces would be greeted as liberators, showered with rose petals have all come true as well, right?
[Quote:]
Courtroom defeats for prosecutors don't come much more embarrassing than the one suffered Tuesday in the Florida terror trial of Sami Al-Arian, who was acquitted on key charges of abetting terrorists. Along with three other defendants, Al-Arian, a former University of South Florida professor, was charged with helping to lead a Palestinian terrorist group from his home near Tampa. Feds, who'd been eying A-Arian for nearly a decade, finally got their chance to indict him following 9/11 when the Patriot Act allowed all sorts of evidence to be suddenly permissible in court. Al-Arian's case never had anything to do with bin Laden or Saddam, but Bush's Justice Dept., which indicted Al-Arian just one month before the invasion of Iraq, made sure to leave the impression that the crucial terror case would keep America safe.

[..]

When then-Attorney General John Ashcroft personally announced the Al-Arian indictment on Feb. 20, 2003, in a press conference carried live on CNN (Ashcroft tagged Al-Arian the North American leader of Palestinian Islamic Jihad), the story garnered a wave of excited media attention. ABC's "World News Tonight" led that night's newscast with the Al Arian arrest. Both NBC and CBS also gave the story prominent play that evening. But last night, in the wake of Al-Arian's acquittal, it was a different story. Neither ABC, CBS nor NBC led with the terror case on their evening newscasts. None of them slotted it second or third either. In fact, according to TVEyes, the 24-hour monitor system, none of networks reported the acquittal at all. Raise your hand if you think the nets would have covered the trial's conclusion if the jury had returned with a guilty verdict in what the government had hyped as a centerpiece to its War on Terror.

The Ambae island's Manaro Volcano, which has been shooting steam, gas and ash up to 1,500 meters (4,500 feet) into the air for more than a week is seen in this image made from television aired Wednesday, Dec. 7, 2005. Vanuatu officials assembled medical teams Wednesday to deal with a potential major emergency as the volcano blast out sulfur gas, volcanic ash and plumes of steam. Ambae, Vanuatu, is an hour's flight northeast from Port Vila and lies near the islands of Pentecost and Maewo, which could be used to help resettle people displaced by a major eruption. (AP Photo/TV3)
You can really find anything on the web… like an archive of gay paperback artwork from the 50′s and 60′s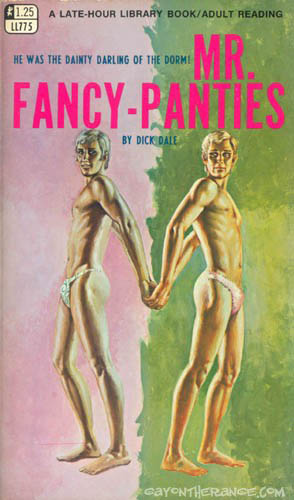 eBay has a Developer Challenge. If you've got an idea for integrating eBay in a weblog like this one, drop me a line.
[Quote:]
This Christmas, no prayers will be said in several megachurches around the country.

Even though the holiday falls this year on a Sunday, when churches normally host thousands for worship, pastors are canceling services, anticipating low attendance on what they call a family day.

Critics within the evangelical community, more accustomed to doing battle with department stores and public schools over keeping religion in Christmas, are stunned by the shutdown.

It is almost unheard of for a Christian church to cancel services on a Sunday, and opponents of the closures are accusing these congregations of bowing to secular culture.

"This is a consumer mentality at work: 'Let's not impose the church on people. Let's not make church in any way inconvenient,' " said David Wells, professor of history and systematic theology at Gordon-Conwell Theological Seminary, a leading evangelical school in Hamilton, Massachusetts.

"I think what this does is feed into the individualism that is found throughout American culture, where everyone does their own thing."
The Onion is at it again:
[Quote:]
Telephone logs recorded by the National Security Agency and obtained by Congress as part of an ongoing investigation suggest that the vice president may have used the Oval Office intercom system to address President Bush at crucial moments, giving categorical directives in a voice the president believed to be that of God.

[..]

For many, the revelation explains Bush's confusion in the wake of Hurricane Katrina.

"I was very surprised by the president's slow response in New Orleans," political commentator Bill Kristol said. "The president told me that he was praying every day in his office, but had received no reply. I had no idea what he meant, but of course, it all makes sense now."

At the time of Katrina, Cheney was on a fly-fishing trip, from which he returned on Sept. 1.