[Quote:]
News of the video bizarre: According to a just-released survey by Scientific-Atlanta, millions of people who have HDTV sets apparently think they are watching high definition television, but aren't. The survey was spurred by an earlier Forrester Research projection that by the end of the year some 16 million U.S. households will have HDTV sets, but only seven million wll have HDTV reception. The Scientific Atlanta survey found that, yes, some 49 percent of households were not taking advantage of their HD equipment. About a quarter found that their HD set itself provided better reception, without taking the additional steps necessary to view HD. Eighteen percent said they didn't even know needed additional equipment, such as a set-top box or antenna. A quarter admitted they thought they were watching HD video because, after all, the programs said at the beginning that they were broadcast in HDTV.
Here we go again…
[Quote:]
Digital rights groups warned the music maker about vulnerabilities its MediaMax copy protection system created on users' PCs.

The same groups have now found that a patch Sony produced to close these holes is itself insecure and leaves users open to a separate attack.
Dear Sony.
Dear, dear Sony.
How long until you truly understand? Enough with the DRM already. Forget the patches, remove the crap altogether.
[Quote:]
It is worth noting that no one ever needs to identify himself as a non-astrologer or a non-alchemist. Consequently, we do not have words for people who deny the validity of these pseudo-disciplines. Likewise, atheism is a term that should not even exist. Atheism is nothing more than the noises reasonable people make when in the presence of religious dogma. The atheist is merely a person who believes that the 260 million Americans (87% of the population) who claim to "never doubt the existence of God" should be obliged to present evidence for his existence—and, indeed, for his benevolence, given the relentless destruction of innocent human beings we witness in the world each day. Only the atheist appreciates just how uncanny our situation is: Most of us believe in a God that is every bit as specious as the gods of Mount Olympus; no person, whatever his or her qualifications, can seek public office in the United States without pretending to be certain that such a God exists; and much of what passes for public policy in our country conforms to religious taboos and superstitions appropriate to a medieval theocracy. Our circumstance is abject, indefensible and terrifying. It would be hilarious if the stakes were not so high.

[..]

One of the greatest challenges facing civilization in the 21st century is for human beings to learn to speak about their deepest personal concerns—about ethics, spiritual experience and the inevitability of human suffering—in ways that are not flagrantly irrational. Nothing stands in the way of this project more than the respect we accord religious faith. Incompatible religious doctrines have balkanized our world into separate moral communities—Christians, Muslims, Jews, Hindus, etc.—and these divisions have become a continuous source of human conflict. Indeed, religion is as much a living spring of violence today as it was at any time in the past. The recent conflicts in Palestine (Jews versus Muslims), the Balkans (Orthodox Serbians versus Catholic Croatians; Orthodox Serbians versus Bosnian and Albanian Muslims), Northern Ireland (Protestants versus Catholics), Kashmir (Muslims versus Hindus), Sudan (Muslims versus Christians and animists), Nigeria (Muslims versus Christians), Ethiopia and Eritrea (Muslims versus Christians), Sri Lanka (Sinhalese Buddhists versus Tamil Hindus), Indonesia (Muslims versus Timorese Christians), Iran and Iraq (Shiite versus Sunni Muslims), and the Caucasus (Orthodox Russians versus Chechen Muslims; Muslim Azerbaijanis versus Catholic and Orthodox Armenians) are merely a few cases in point. In these places religion has been the explicit cause of literally millions of deaths in the last 10 years.

In a world riven by ignorance, only the atheist refuses to deny the obvious: Religious faith promotes human violence to an astonishing degree. Religion inspires violence in at least two senses: (1) People often kill other human beings because they believe that the creator of the universe wants them to do it (the inevitable psychopathic corollary being that the act will ensure them an eternity of happiness after death). Examples of this sort of behavior are practically innumerable, jihadist suicide bombing being the most prominent. (2) Larger numbers of people are inclined toward religious conflict simply because their religion constitutes the core of their moral identities. One of the enduring pathologies of human culture is the tendency to raise children to fear and demonize other human beings on the basis of religion. Many religious conflicts that seem driven by terrestrial concerns, therefore, are religious in origin. (Just ask the Irish.)
[Quote:]
The music industry is to extend its copyright war by taking legal action against websites offering unlicensed song scores and lyrics.

The Music Publishers' Association (MPA), which represents US sheet music companies, will launch its first campaign against such sites in 2006.

MPA president Lauren Keiser said he wanted site owners to be jailed.

He said unlicensed guitar tabs and song scores were widely available on the internet but were "completely illegal".

Mr Keiser said he did not just want to shut websites and impose fines, saying if authorities can "throw in some jail time I think we'll be a little more effective".
[Quote:]
The US has admitted for the first time that it has not given the Red Cross access to all detainees in its custody.

The state department's top legal adviser, John Bellinger, made the admission but gave no details about where such prisoners were held.

Correspondents say the revelation is likely to increase suspicion that the CIA has been operating secret prisons outside international oversight.

The issue has dogged Secretary of State Condoleezza Rice's tour to Europe.
(via)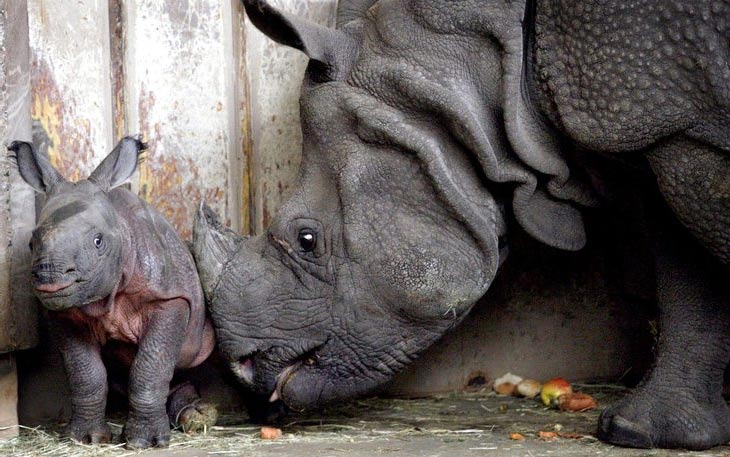 There's just something about the rhino babies that makes 'em interesting. In this one the mom is named Betty, and the newborn and all are at Berlin's Friedrichsfeld Zoo.
Sony continues with their "we don't give a flying fuck about public property" advertising campaings:
(via)
[Quote:]
Only a few hundred members showed up for the hastily organized event at a Washington hotel and empty chairs were removed from the back of the ballroom before Bush arrived. The audience interrupted Bush for applause only once during the speech and even then, many, if not most, did not clap. There was polite applause when he finished.
[Quote:]
It wasn't for lack of effort. We were forwarded this desperate plea the Council sent out late Tuesday, asking people who were planning on coming to bring a friend:

Bush broke Council tradition by refusing to accept questions after his speech. Apparently, most people aren't that excited about being used as a presidential prop. This may explain why Bush has preferred giving his speeches in front of military audiences, who are required to attend.
[Quote:]
House Speaker Dennis Hastert wants members "to understand the nuances of House rules," said his spokesman, explaining why Hastert proposed ethics training sessions to a members-only meeting of the House Republican Caucus.

Great idea. If executive privilege isn't a problem, maybe they can subpoena the manual that Harriet Miers worked up for that post-Libby-indictment refresher course that Karl Rove & Co were forced to endure.

The key to the House rules, as Hastert's flack emphasized, is subtlety.

A PAC contribution is always more nuanced than a Rolls Royce. A golf trip to Scotland is more nuanced than a yacht on the Potomac, which is more nuanced than a Capitol-convenient lobbyist's hospitality suite with extra bedrooms, which is more subtle than Jeff Gannon/Guckert.

Holding a vote open for an extra hour is more nuanced than threatening a primary challenge against a member, which is more nuanced than bribing him with campaign contributions.

Sneaking last-minute midnight provisions on behalf of lobbyists into thousand-page bills is more nuanced than sneaking them in during conference committee, which is more nuanced than letting defense contractors into conference committee to write those provisions.

Trading K Street access for K Street jobs is more nuanced than gerrymandering a state in order to increase the number of Republican seats is more nuanced than using the FAA to chase down out-of-state legislators, which is more nuanced than money-laundering.

This subtlety thing is pretty subtle, I grant you; minding your quid's and quo's is hard work, as W might say. Which is why I'd recommend that Hastert boil it down into two simple rules for his Caucus:

1. Don't get caught.

2. If Rule 1 fails, use as many of these words as possible: "full responsibility," "more time with my family," "Betty Ford clinic," "politics of personal destruction," "not gay," and "Jim Wright."

I'm sure the Speaker would be delighted to receive additional suggestions from citizens.

An Iraqi soldier inspects the site of a suicide attack in a bus station in Baghdad, Iraq Thursday, Dec. 8, 2005. A suicide bomber detonated an explosive belt in a bus as it was about to depart for a Shiite city in the south, killing at least 12 people and wounding 27, police said. (AP Photo/Khalid Mohammed)
[Quote:]
Wanneer softwarepiraterij met 10 procent verminderd kan worden, bespaart dat duizenden banen en levert het aanzienlijke economische voordelen op.

Terugdringen van het huidige softwarepiraterijpercentage van 30 procent in Nederland met 10 procent zou leiden tot bijna achtduizend nieuwe banen, een economische groei van 3,97 miljard euro en 1,20 miljard euro aan belastinginkomsten over een periode van vier jaar, stelt onderzoeksbureau IDC naar aanleiding van research in opdracht van de anti-piraterijorganisatie BSA.
"in opdracht van". Hmm… kennelijk hebben ze deze keer niet zoveel geld betaald aan IDC, want ik mis de gebruikelijke conclusies dat piraterij het terrorisme ondersteunt, hoofdluist veroorzaakt, en kleine kinderen aan het huilen maakt.

Mizuho Securities Co. President Makoto Fukuda, right, talks at a news conference on Thursday.
[Quote:]
Mizuho Securities Co. suffered losses of at least 27 billion yen following an error on the Tokyo Stock Exchange (TSE) in which its order to sell one share for 610,000 yen each was accidentally listed as 610,000 shares for 1 yen.

The firm said the error had been made with an order to sell shares in the human resource company J-Com Co.

"At presents the losses are 27 billion yen. There's a possibility this could expand to the range of 100 billion yen," a company representative said.
You know, I find this very difficult to believe. This is only true if two siginificant errors were made with the software they use to enter orders: first, and I find this hardest to believe, the entry form for a sales order must be so confusing it is easy to mistake "price" for "amount" and the other way around. This would mean this mistake happens on a daily basis. Second, there's no sanity check on entered data. There should be an error message: "the price you entered is so totally out of whack with the current market price, it makes no sense". And if that check wasn't written into the software, how about "the amount you entered is far larger than the total amount of shares issued for this stock".
If I were a customer, and if their software is indeed this shoddy, I'd pull out all my investments with them. Because this won't be the last "accident".
I've got a TomTom Go 700 for sale on eBay. No, I'm not advertising for it, I want to tell about an e-mail I received this morning:
From: [deleted]@aol.com
Subject: Re: Vraag over verzending voor object #4594107709 – TomTom GO 700 (Incl. West…
Date: December 9, 2005 2:56:02 AM GMT+01:00
To: john@sinteur.com

Hi,

For shipping I want to use DHL – NEXT DAY DELIVERY.
Please let me know if it is possible for you to accept a secure third party company for this deal.

You have my rating to prove that I'm a serious buyer.

I'm sorry but I had some bad experience with my PayPal account. You can see by yourself visiting www.paypalsucks.com or www.nopaypal.com I don't want to use this service until I get all my money from them.

I want to use the eBay Secure Payments service for a safe and secure deal for both parts.
I will send the money at eBay Secure Payments office.
I will pay the ebay fees for this.
When they have received the money, ebay will contact you with the transaction info.
After you are assured that the item has been paid, you will send me the package. After the package is sent, you will receive the money from ebay.

Please send me your full name and address for the ebay payment and also please confirm me the total amount to be paid including the shipping charges via next day delivery in order to send the payment.

Thank you.
Note that there's no ebay account info to check his "high rating". This guy attempts to get me to "deal" with him without going through ebay, and with payment through "a secure third party". Note he's not mentioning the product at all – he's probably copy-pasting to as many eBay objects above a certain dollar amount as he can. Note that he's bidding on an object with an all-dutch description, with shipment restrictions to the Netherlands and the countries directly around the Netherlands, and on an object that's only useful in Europe.
Using the "secure third party" for payment is, of course, a well-known way to scam – see p-p-p-powerbook for the most famous example. I would never see a dime if I fell for this.
I don't know if this is against AOL TOS, and I don't know if the guy has a real ebay account, but I thought it wise to inform both parties anyway.
I put to you that the United States is without doubt the greatest show on the road. Brutal, indifferent, scornful and ruthless it may be but it is also very clever. As a salesman it is out on its own and its most saleable commodity is self love. It's a winner. Listen to all American presidents on television say the words, 'the American people', as in the sentence, 'I say to the American people it is time to pray and to defend the rights of the American people and I ask the American people to trust their president in the action he is about to take on behalf of the American people.'

It's a scintillating stratagem. Language is actually employed to keep thought at bay. The words 'the American people' provide a truly voluptuous cushion of reassurance. You don't need to think. Just lie back on the cushion. The cushion may be suffocating your intelligence and your critical faculties but it's very comfortable. This does not apply of course to the 40 million people living below the poverty line and the 2 million men and women imprisoned in the vast gulag of prisons, which extends across the US.

The United States no longer bothers about low intensity conflict. It no longer sees any point in being reticent or even devious. It puts its cards on the table without fear or favour. It quite simply doesn't give a damn about the United Nations, international law or critical dissent, which it regards as impotent and irrelevant. It also has its own bleating little lamb tagging behind it on a lead, the pathetic and supine Great Britain.

What has happened to our moral sensibility? Did we ever have any? What do these words mean? Do they refer to a term very rarely employed these days conscience? A conscience to do not only with our own acts but to do with our shared responsibility in the acts of others? Is all this dead? Look at Guantanamo Bay. Hundreds of people detained without charge for over three years, with no legal representation or due process, technically detained forever. This totally illegitimate structure is maintained in defiance of the Geneva Convention. It is not only tolerated but hardly thought about by what's called the 'international community'. This criminal outrage is being committed by a country, which declares itself to be 'the leader of the free world'. Do we think about the inhabitants of Guantanamo Bay? What does the media say about them? They pop up occasionally a small item on page six. They have been consigned to a no man's land from which indeed they may never return. At present many are on hunger strike, being force-fed, including British residents. No niceties in these force-feeding procedures. No sedative or anaesthetic. Just a tube stuck up your nose and into your throat. You vomit blood. This is torture. What has the British Foreign Secretary said about this? Nothing. What has the British Prime Minister said about this? Nothing. Why not? Because the United States has said: to criticise our conduct in Guantanamo Bay constitutes an unfriendly act. You're either with us or against us. So Blair shuts up.
Read more of this highly articulate playwright's speech.