[Quote:]
She was a freshman on an academic scholarship at Bryn Mawr College, preparing to fly home to California for Christmas, sleep-deprived, with questions from a calculus exam still racing through her head.

In the space of a few hours on Dec. 21, 2003, Janet Lee landed in a Philadelphia jail cell, where she would remain for three weeks, held on $500,000 bail and facing 20 years in prison on drug charges.

All over flour found in her luggage.

[Quote:]
"The Mad Tea Party"
oil on canvas, 48″x 84″, 2005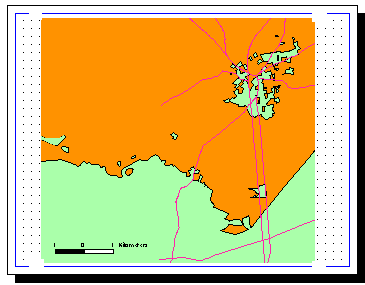 The orange portions are part of the national territory of the Netherlands.
The green portions, which constitute what we might think of as an
inland archipelago, are part of Belgium.
[Quote:]
Living in a extremely enclavated village such as Baarle brings its own problems but also unique opportunities.

As each house is deemed to pay taxes in the country where its front door is located, it is an old tradition in Baarle to move the front door some meters if that is profitable for the taxes, especially for shops. This is part of making the best out of a strange situation. In 1995 a remeasurement of all the borders of enclaves according to modern exact standards was completed. This gave rise to some problems of this kind. In at least one case a house would have had to move from Belgium to the Netherlands. The inhabitants did not want that to happen, but the solution was simple: they moved the front door of their house. One formerly Dutch meadow (with one cow grazing there) "moved" in 1995 from the Netherlands to Belgium, as it was recognised that it had to be a Belgian parcel.

[Quote:]
In 1994, the United States was the first nation to call for the elimination of landmines that killed and maimed hundreds of thousands of innocent people around the world.

But that was then. Today, Washington not only stands in opposition to an international treaty that bans the use and production of antipersonnel landmines, but intends to make new ones too.

In reversal of its earlier policy, the U.S. is reportedly planning to produce a new generation of landmines called "Spider" by March 2007, a move that has alarmed civil society groups campaigning for a global ban on the use and production of landmines for years.

"We are concerned about this," says Alison Bock, president and founder of Landmines Blow!, a U.S.-based independent group. "This would erase many of the positive steps the U.S. has taken in the past."
[Quote:]
Minister Remkes van Binnenlandse Zaken werkt aan een landelijk protocol om geweld tegen politieagenten streng aan te pakken. Daders zullen altijd worden vervolgd en ze moeten opdraaien voor de schade, zoals medische kosten. Ook eventueel verzuim als gevolg van geweld moet door de dader worden vergoed.

[..]

In het Haagse protocol staat hoe agenten aangifte kunnen doen tegen geweldplegers en hoe ze de schade kunnen verhalen. Het protocol schrijft verder voor dat altijd justitie moet worden ingeschakeld voordat een opgepakte dader naar huis mag. Voor het innen van de schade worden gespecialiseerde advocatenkantoren ingeschakeld.
Mocht je geen agent zijn: Veel sterkte met je aangifte, de schadevergoeding en het zoeken naar een advocaat. Je zult het nodig hebben.

[Quote:]
What accounts for the glut of internet movies which show people doing incredibly dumb and disgusting things, like lighting their beards on fire, drinking their own vomit or jumping in front of moving cars? Surely it goes back further than Johnny Knoxville, back even further than The Gong Show. Finally, some proof that the practice goes back nearly to the early twentieth century: here's a film shot in 1912 of an Austrian tailor, Franz Reichelt jumping off the Eiffel Tower in a combination overcoat-parachute of his own design, expecting to fly. Or at least to to float gently to the ground. Suffice it to say things didn't go quite as expected. The film ends with men ceremoniosuly measuring the crater left by Reichelt: (download video, 1.5 meg wmv). More info on Reichelt here.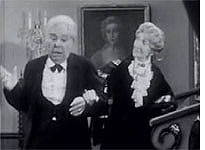 [Quote:]
Every New Year's Eve, half of all Germans plunk down in front of their televisions to watch a 1963 English comedy sketch called Dinner for One. Walk into any bar in Bavaria and shout the film's refrain: "The same procedure as last year, madam?" The whole crowd will shout back in automatic, if stilted, English: "The same procedure as every year, James." Even though Dinner for One is, according to the Guinness Book of World Records, the most frequently repeated TV program ever, it has never been aired in the United Kingdom or the United States, and most of the English-speaking world is ignorant of its existence. When Der Spiegel probed the mystery last New Year's, it found that the BBC had not only never contemplated broadcasting this veddy British nugget in the United Kingdom, the BBC's spokesperson had never even heard of it.

Dinner for One, also known as Der 90 Geburtstag (The 90th Birthday), has rattled around the cabaret circuit for decades. Written by British author Lauri Wylie in the 1920s, it presents a morbidly funny story in miniature—(just 11 minutes on TV): Elderly Miss Sophie throws her birthday party every year, setting the table for her friends Sir Toby, Mr. Pommeroy, Mr. Winterbottom, and Adm. von Schneider, while conveniently ignoring the fact that they've all been dead for a quarter-century. (You can watch all of Dinner for One here or read the English script here.) Her butler James manfully takes up the slack by playacting all of them. He serves both drinks and food while quaffing toasts on behalf of each "guest," a bevy of soused British noblemen and von Schneider, who toasts Miss Sophie with a heel-click and a throaty "Skål!" (Watch a sample of Mr. Winterbottom's patois here.) James waddles to and fro, trips repeatedly over the head of a tiger-pelt rug, declaims each guest's pleasantries boozily, spray-fires the table with mispoured drinks, and downs a little water from a flower vase. Each course begins with the signature refrain: "The same procedure as last year, madam?" "The same procedure as every year, James." The sketch ends with James' final "procedure": bedding the old lady himself.
[Quote:]
Vraag Is het eensgelijks of insgelijks?

Antwoord De correcte vorm is insgelijks.

Toelichting Het bijwoord insgelijks wordt gebruikt als bijwoordelijke bepaling in de zin (Ik wens je insgelijks het beste toe), maar is vooral gebruikelijk als elliptische uitdrukking bij het beantwoorden van een begroeting of een wens, in de betekenis 'ik wens u hetzelfde' (A: Ik wens je het beste. B: Insgelijks!).

De oorspronkelijke vorm van het bijwoord insgelijks ('evenzo, evenzeer, eveneens') is de voorzetselgroep in des gelijk (Middelnederlands in des gelijc, in des gelike, in gelike des) met de letterlijke betekenis 'in gelijkheid daarvan', 'op de wijze van' (d.w.z. van datgene wat genoemd is). De uitdrukking is versmolten tot één woord waaraan een bijwoordelijke uitgang 's is toegevoegd. Vergelijkbaar in oorsprong, gebruik en betekenis is de minder gangbare uitdrukking van 's gelijken.

De oorspronkelijke structuur van het woord is niet meer doorzichtig en het is dan ook begrijpelijk dat sommige taalgebruikers insgelijks verhaspelen tot eensgelijks, misschien onder invloed van woordvormen als eensgestemd, eensgezind en eensluidend.

New Year at Times Square is probably the most famous New Year Celebration in the world. More than 700.000 people are gathered at Times Square when the ball drops. This year with Mariah Carey performing live in ABC's Dick Clark's New Year's Rockin' Eve. Carey joined co-hosts Dick Clark and Ryan Seacrest in the last minutes of 2005.
Click image for Full Screen Quicktime VR 360 degree Panorama.

This picture is taken on the Dam in Amsterdam where about 20.000 people celebrate the beginning of 2006. It's the 3rd time this event is organised by IdtV and people get a free program with dj's and other performances,
Click image for Full Screen Quicktime VR 360 degree Panorama
Many more locations with full screen panorama's here.

Iraqi motorists queue at a petrol station in Baghdad December 31, 2005. Iraq will start trucking fuel from main northern oil refineries to cities across the country in bid to stem panic buying. REUTERS/Faleh Kheiber
[Quote:]
President Bush has announced four nominees for the Federal Election Commission, choices that would keep the policing of campaign abuses firmly in the hands of party wheel horses. The timing of the announcement – the president waited until the Senate had gone home – is likely to allow the nominees to avoid the full hearing and confirmation process needed to evaluate them properly.

The most objectionable nominee is Hans von Spakovsky, a former Republican county chairman in Georgia and a political appointee at the Justice Department. He is reported to have been involved in the maneuvering to overrule the career specialists at Justice who warned that the Texas gerrymandering orchestrated by Representative Tom DeLay violated minority voting rights. Senators need the opportunity to delve into that, as well as reports of Mr. von Spakovsky's involvement in such voting rights abuses as the purging of voter rolls in Florida in the 2000 elections.

The need for a clean broom at the six-member election panel becomes clearer with each new round of decisions favoring big-money politics over the voters. But the newly nominated majority promises no improvement. In fact, the slate would mean an end to the service of Scott Thomas, the one incumbent praised for his independence by Senator John McCain, who has campaigned for a clean, hack-free Federal Election Commission.

Both parties suggested candidates; the Democrats include a union lawyer and a trusted political associate of the Senate minority leader, Harry Reid. By endorsing them, the president has finally shown his commitment to bipartisanship in the worst of ways: by installing another undistinguished group of factotums to referee the democratic process.