A bag full of money: political speech
Like button on candidate's facebook: unprotected non-speech
[Quote]:

That clever Jony Ive. Not content with giving the planet all manner of lovely iThings, the Apple designer may also have given the world the first combined AC adapter/beer bottle opener.
[Quote]:

"People have been conned by my grandparents," Ms. Koper said.
Wait, let me get my surprised face for you…
Cleverly hidden in the background is every encyclopedia, ever.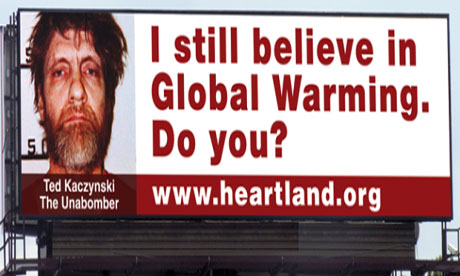 The Heartland Institute, a Chicago-based rightwing thinktank notorious for promoting climate scepticism, has launched quite possibly one of the most ill-judged poster campaigns in the history of ill-judged poster campaigns.
Just because Ted Kaczynski,  Charlie Manson, Fidel Castro, Osama bin Laden and James J. Lee are bad men who may also have said that the planet is warming due to human activity, doesn't make them wrong. For 10 points, boys and girls, who knows what kind of logical fallacy this is?